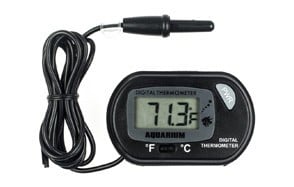 Zacro LCD Digital Aquarium Thermometer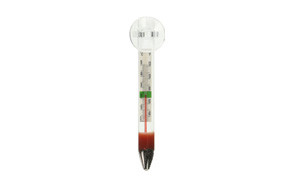 Marina Floating Thermometer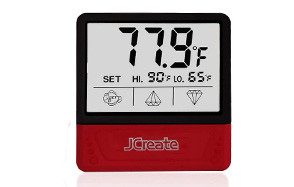 Capetsma Aquarium Thermometer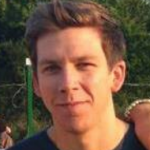 We use thermometers every day. From checking your body temperature to adjusting the ambient air with the help of a home thermostat, thermometers are undoubtedly an everyday item. An aquarium thermometer simply takes it a step further in the sense that it accurately reads water temperature in your fish tank.
Anyone who knows anything about fish knows that they can only survive in water that's set at a certain temperature, as such, owning an aquarium thermometer is very important. Typically, most fish need the water to stay at a temperature between 76° to 80°F (25° to 27°C), and this will be incredibly difficult to achieve without a thermometer. With that said, let's take a look at some of the best aquarium thermometers on the market.
The Best Aquarium Thermometer
Aquarium Thermometer Buying Guide & FAQ
Before you pop out to the store or an online shop to purchase a new aquarium thermometer, there are a few things you need to consider. Luckily, we will be examining them below.

Features To Look For In Aquarium Thermometers
Accuracy - This is incredibly important because, without an accurate reading, you won't know how comfortable your fish is. You see, if you get a faulty reading, you are more likely to do something harmful to your fish.
Let's say you make the water hotter, you'll probably boil your fish to death, and that's not a good way to go. So, before buying a thermometer, ensure that it comes from a brand that is trusted for its accuracy. Also, you can read reviews and ratings to see if other consumers were pleased with its level of accuracy.
Durability - Generally speaking, aquarium thermometers are inexpensive tools, but if you have to buy a new one every two weeks, the expenses begin to pile up. To prevent this, make sure you buy a thermometer that is strong and capable of lasting for a while. Even better, you could go for products that have more than one thermometer packaged with them, as this simply means it will last for longer.
Ease of Reading - Not everyone has a perfect vision so, if you get a hard-to-read thermometer, it could lead to mistakes that could harm your pet. This is why devices with large display screens and numbers are so popular nowadays. If you don't want a digital thermometer with a large display, then you can get a floating or standing thermometer with large numbers.
Power Options - All digital thermometers run on some sort of battery, and this is fine, but ultimately, batteries die or fail. So, if you would rather not deal with them, you can get stick-on or floating thermometers which don't use batteries but still display accurate readings.
Types Of Aquarium Thermometers
Digital - These are the most common types of thermometers; they are characterized by their slim designs and their use of suction cups and probes. Consequently, using them is easy, and you simply need to place the probe in the water (not the thermometer itself), then turn on the device, and it gives an accurate reading. Additionally, they use batteries and can often give measurements in both celsius and Fahrenheit.
Floating or Standing - This type of thermometer is slightly different because they don't use batteries and come as one whole package. On top of that, they can all be placed in the water because they aren't susceptible to water damage. Also, most of these thermometers are equipped with something called a 'green zone' which is the optimal temperature for the water. This feature makes it much easier to determine if the water is the right temperature for your fish.
Stick-on - These are a lot different from the other two as they don't feature any advanced technology. It is also typified by how easy it is to use as you only need to remove the tape and place it on the side of the fish tank. Just like the floating thermometer, it doesn't need any batteries and is usually cheaper than other types of thermometer.

Aquarium Thermometer FAQ
Q: What is an aquarium thermometer?
A: An aquarium thermometer, as the name implies, is a device used to check the temperature of the water in a fish tank or aquarium. This is important because fishes thrive in a certain environment, and this is easier to achieve with the help of a thermometer.
Q: How to use a digital aquarium thermometer?
A: Using a digital thermometer is easy and doesn't require many steps. Start by placing the probe that comes with the thermometer in the water and secure it with the suction cup. It is important to note that you shouldn't put the monitor in the water, too, as this could damage it. Proceed to turn on the digital thermometer and apply it with the help of a suction cup
Q: Where to put a stick-on thermometer in an aquarium?
A: Stick-on thermometers are easy to use and can be placed on the side of the aquarium. That said, it should be noted that they are to be kept away from direct sunlight or cooling/heating units, as this affects the reading and accuracy.
Q: How to read an aquarium thermometer sticker/ strip?
A: While installing the sticker thermometer poses no challenge at all, some users might find it difficult to read. However, once you get the hang of it, it's quite easy. First off, check the rainbow display. While the blue/violet and the red/orange parts give readings, they aren't the accurate reading. You should be looking out for the reading located around the green area, which is situated in the middle of the rainbow.
Q: Where is the best place to put a thermometer in a fish tank?
A: When it comes to a stick-on thermometer, it is best to place it on the side of the tank. Meanwhile, a floating thermometer goes on the surface of the water, while digital probes are best attached to the inner side of the tank.
Q: Are sticker thermometers accurate?
A: Most thermometers are accurate, but the digital ones are by far the most accurate of all. Even with that, there is still a margin for error, so always be careful.