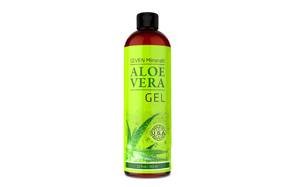 Seven Minerals Organic Aloe Vera Gel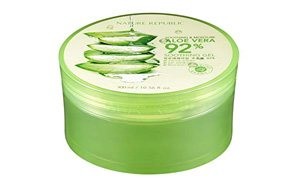 Nature Republic Moisture Aloe Vera Gel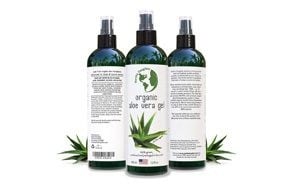 Earth's Daughter Aloe Vera Gel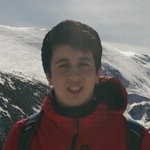 More and more people have now realized that the best products for skin care have always been plant related. No more so than the deliciously gloopy inner pulp of an aloe vera leaf! This unlikely substance, more like something you would find living in the depths of the sea, calms, soothes and repairs. Even best aloe vera gel prepared for a modern market demanding convenience doesn't cost the earth and in the majority of cases will improve and enhance the complexion and hair with just a few applications.      
Aloe vera gel in its natural from, straight from the leaf can be very sticky and it is therefore necessary to wash it off after application. Moreover, the leaf itself is thick and spiky and the plants will only flourish in a hot climate. It can therefore be tricky, messy and bothersome to cut a fresh leaf everyday as part of your personal care routine. Aloe vera gel-based products have resolved these issues, making it possible for everyone to include using aloe vera in their skincare regime.
While using aloe vera gel may well be the answer to a number of skin problems, it is important to select the best product available for your skin type and issues on the market. Here are some of the most popular and highest rated gels you may want to try.
The Best Aloe Vera Gel
Aloe Vera Gel Buying Guide & FAQ
How We Chose Our Selection of Aloe Vera Gels
We make our selection considering the popularity of the brand against its value for money. We choose the most affordable aloe vera gels with positive customer reviews. It's the combination of popular brand, reasonable price, natural ingredients and good customer reviews that helped us create the list of these aloe vera gels for you.
Features To Look For In Aloa Vera Gels
To find the best aloe vera gel, it is important to pay attention to a number of things. Here are some features to look for in your aloe vera gel:
Check the Ingredients - You need to understand that bottled aloe vera gels vary greatly in quality. It's not the same gel you extract directly from the plant but uses other ingredients to turn it into a usable texture and increase its shelf life. The gel is the most potent part of the leaf but it has to be blended with emollients such as glycerin to improve hydration. Many companies now use oil and water soluble ingredients. To keep them blended they need to resort to adding stabilizers.
Checking the ingredients of your bottled aloe vera gel is important because some companies try to deceive you by selling gels that are mostly water and only a little aloe vera juice. Some of these products can actually be harmful because dehydrated aloe vera powder is added. Therefore, it is essential to check the ingredients and ensure that Aloe Barbadensis Leaf Juice is at the top of the list, not aqua or water. Moreover, the gel should be free of any carbomers, parabens, and carrageenan or else you could end up hurting your skin instead of repairing it.
Know Its Shelf Life - Whenever you're out looking for the right aloe vera gel, never make a purchase unless you know the shelf life of the product. Some brands rely heavily on natural stabilizers which often diminish the quality of the gel itself. Ideally, you should be looking for a product with natural preservatives such as grapefruit seed extract which keeps the gel in its usable form for up to 12 months.
Ease of Use - Consider the consistency of the aloe vera gel and how this will affect what you want to use it for. Some so-called gels will be so watery, it's unreasonable to call them gel. However, some top brands offer gels with a rather watery consistency for rapid absorption and still offer a great products and benefits. Gels with a lotion-like consistency can be added to massage oils, essential oils and other daily care products. So, be sure to check the ease of use and its intended purpose  before buying.

Aloa Vera Gel FAQ
Q: What is aloe vera gel?
A: Part of the aloe species, aloe vera is one of the most commonly used plants in cosmetics because of its potent medicinal properties. Aloe vera can offer a variety of benefits from over150 active ingredients, such as selenium, zinc, vitamin C and vitamin E.  If you take the succulent aloe vera leaf, you can divide it into two parts. One is the actual gel and the other one is the juice or latex. Aloe vera gel is the clear pulp on the innermost part of the leaf, whereas the aloe latex is a golden yellow liquid seeping from the leaf itself.
Q: How should I use aloe vera for my skin?
A: When you pick the right aloe vera gel, especially from the ones reviewed here, you're likely to receive some amazing skin-related benefits. Of course, the results may vary from person to person, depending on how you use it, your skin type and condition and your frequency of use. Here are some of the ways to enjoy its skin-related benefits:
For Use As A Moisturizing Cream: You can use aloe vera gel on oily skin to reduce and manage acne outbreaks and more. It penetrates deep into your skin but does not saturate it, which is why it can replace your day cream in the summer.
Soothing Skin Care: You can use our aloe vera gel to deal with irritation, redness, sunburn and other similar issues. It works by creating a soothing sensation. You just need to massage the affected area using a few drops of gel.
Firming Skincare: Another great use of aloe vera gel is as firming or up lifting agent. By repairing tissue and removing dead skin cells, it provides anti-ageing benefits. It can serve as a reliable lifting mask for the face and around the eyes. You can also use it to deal to fade stretch marks and help with cellulite.
The soothing qualities of the aloe vera plant have been known and used for centuries. As far as skin care goes, it's one of nature's wonder plants. Whichever product you choose from our list, you are going to see benefits. In the end, settling down to regularly buy and use one product may come down to how quickly it is absorbed or how easily you can get the cap off. Whatever it is that makes you eventually settle with a favorite brand, aloe vera gel is definitely something every household should keep handy in the first aid box or bathroom cabinet.