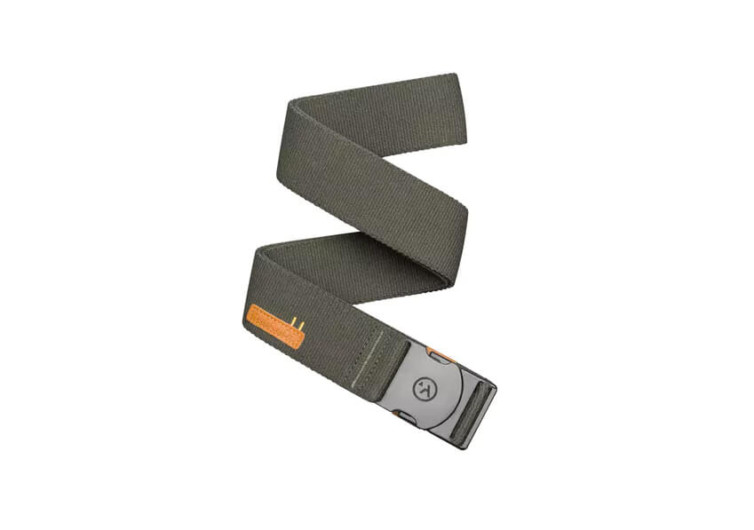 GearHungry may earn a small commission from affiliate links in this article.
Learn more
Arcade Belt Co. YOSAR Adventure Belt
Designed specifically to venerate the remarkable exploits of the men and women of the Yosemite National Park's Yosemite Search and Rescue, this Adventure Belt from Arcade Belts is the perfect all-around lower garments support system that is as functional in the natural landscape of Yosemite as it is outside the park.
Drawing inspiration from the Merced River that nourishes many of Yosemite's indigenous residents, the Adventure Belt comes with an exclusive River Bed Green color scheme that conjures images of the unspoiled beauty of Mother Nature. The stretchy band made of highly durable elastic webbing runs the entire length of the YOSAR Adventure, making sure it fits any waist that it may grace.
Breaking the monotony of green is a leather trim that features the Arcade name dutifully debossed into the premium-quality hide. Yellow stitching adds a hint of elegance to the blend of elastic and leather. The acetal polymer buckle at the end of the stretchy elastic band is extra-slim and lightweight, allowing for a breezier pass through the most stringent airport securities.
The YOSAR Adventure Belt is primarily intended as an adventure belt, although it can easily be used for daily activities as well as for traveling. It is tough and comes with excellent weatherproofing. You could go to the rainforests of the Amazon, the tundra of Siberia or even the Alpine regions of the Himalayas and the Adventure Belt will still feel very secure around your waist.
Its adventure spirit can be found in its triple purpose design. It's not only a belt that will keep your pants up where it should be, but also a strong and reliable bungee cord and a heavy-duty tie-down strap. You won't have to bring any of these extras on your backpack so long as the YOSA Adventure is neatly buckled around the waist.
And even if you don't find the Adventure fashionably appealing, you'll still be doing great service to the men and women of the YOSAR as each purchase will send 10% to the rescue and safety efforts of the Yosemite National Park. That's a belt with a social purpose.
You may also like: 12 Best Leather Belts in 2019
CHECK PRICE ON HUCKBERRY.COM