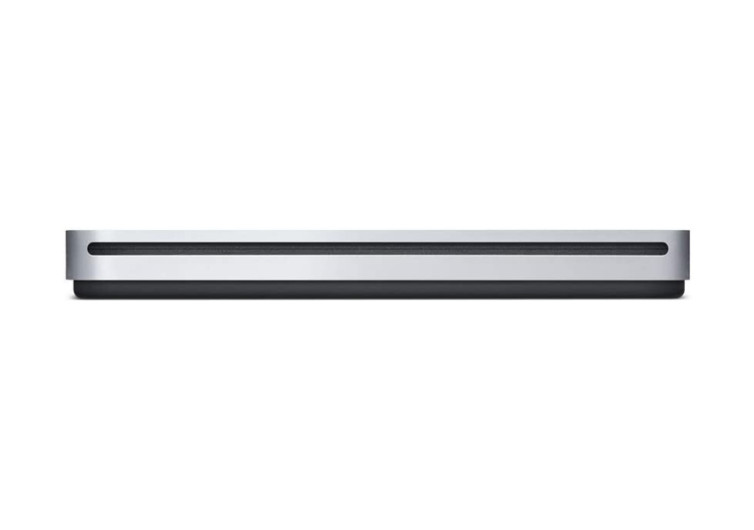 GearHungry may earn a small commission from affiliate links in this article.
Learn more
Apple USB SuperDrive
The Apple USB SuperDrive is a portable, easy to use, and efficient optical drive even when you're on the road. Weighing only 335 grams and measuring almost similar to your CD case, this device fits snugly even in the smallest travel cases.
Ideally, this gadget is intended for upgraded versions of MacBooks and iMacs without the optical device. It functions as a traditional CD/DVD player so that you don't have to carry a bulky player to listen to your favorite band using a CD or watch your favorite shows using a DVD from your Apple laptops.
If you have some old CDs lying around the house that you'd want to import to iTunes, this device can transfer content from CDs or DVDs to your MacBook. Some users use this equipment to look into old photos and wedding videos as well. This sleek device also lets you copy any content such as videos, documents, and audio files from selected MacBook models to a CD or DVD.
The latest MacBook models (2017 and up) and MacBook Pro (2012 and up) can easily connect with this device using the USB-A port. However, older MacBook Air, iMac, and MacBook models may require a USB-C to USB adapter for Apple USB SuperDrive to be fully functional.
Some users may find inconsistent audio quality after ripping music from CD to a Mac Mini. This may be remedied by changing the position of the disk. It's good to note that the Apple logo should be at the bottom to avoid hiccups transferring to and from the device or CDs.
It's less noisy compared with other similar devices sold in the market. However, the cord might fall a little short especially if you don't have a desk to work on.
For some, this product comes a bit too pricey considering its basic functions. It delivers well but it's not exceptional as some expressed inconsistent outputs. Overall, there could be better products available in the market at a much cheaper price.