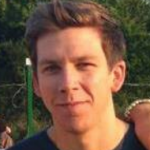 Support us! GearHungry may earn a small commission from affiliate links in this article.
Learn more
BBQ Hacks
BBQ is a family favorite and BBQ dinner nights are always looked forward to by everyone. Surely, after catching some waves on the beach, the second best thing to do in summer is to invite some friends over and feast on delicious food like a juicy steak or salmon bacon bites. BBQ is fun, but it can take a lot of work unless you're a real expert. The thing is that every BBQ expert has to start somewhere so here are a few really useful hacks to solve the most common BBQ problems and get you crowned the BBQ king.
But before you go any further, be sure to check the propane level!
One of the biggest issues at the BBQ party is not knowing the exact propane level in the grill tank which is a disaster if you end up finding out the hard way that you are cooking on empty. How embarrassing. You look like a BBQ pro just by using your hands, and it is easy, as all you have to do is Pour cold water over the tank, and run your hands over the tank until you find where it is cold. The cold means there is propane in that part of the tank, and where the cold turns to hot is the propane level.
Once you know there is enough propane, you can start the party, and here are some BBQ hacks to make your party a real success.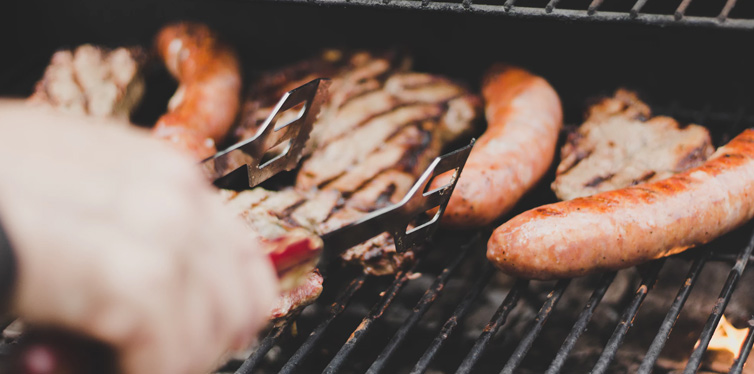 Transporting Lighted Coals
Look like you really do know what you are doing with eggboxes! One of the most amazing BBQ hacks is using cardboard egg cartons to introduce your lit match to charcoal when you are at the camping site or grilling party. You get to look cool recycling an egg box too.  Simply fill each egg space with lit charcoal chips and close the carton. You can now take these gently glowing charcoalswith you. When you are ready to fire up, just place the egg carton into the charcoal of your BBQ grill or campfire, open the box and blow on the charcoal embers to give them a lift then stand back.
BBQ Tongs
Be prepared from the get go and ensure that you have at least two pairs of tongs with insulated handles, as you will need one tong for the food, and the other one for the coals. Using separate tongs will also ensure that your food does not get dust, and you do not expose any food grease to the coals that would flare them up.
Greasing the Grills
Everyone likes that nice char-grilled taste; it is the ultimate reason why you bother to BBQ at all.  Having food stick to the grill or pan means that your food will lose that BBQ-charred goodness forever and everyone may well go home. Have oil ready to go in an old squeezy sauce bottle. Oiling the grill and pan will mean you hang onto the char and the flavor. An even better option is to use garlic-marinated oil that is sure to add some extra flavor to your food.
Invest in a Chimney
If you are a confirmed BBQ cook and fed up with unevenly burning coals driving you crazy, you need to invest in a chimney. Having a chimney BBQ reduces the fumes and increases the intensity of the heat for a better taste and an even cook. It means you get to use all the available cooking space. It is easier to get lit too, with just a few bits of crumpled newspaper under the coals and a match to light. The chimney works by drawing air through the coals and it won't be long before you have the full on red coal effect. Perfect.
Perfect Looking Barbeque
If you are a BBQ lover and a grilling fanatic, the presentation of your burnt offering matters too. For a photo worthy steak, you need to know the '10-2' rule. Think of your grill pan as a clock, start your cook by placing the steak at 10 o'clock, when its is half-done move it over to 2 o'clock. Flip the meat when that side is done and return it 10 o'clock to repeat the process. Just by sticking to this method, you will end up having those criss-cross marks on the meat slabs that make them look delicious.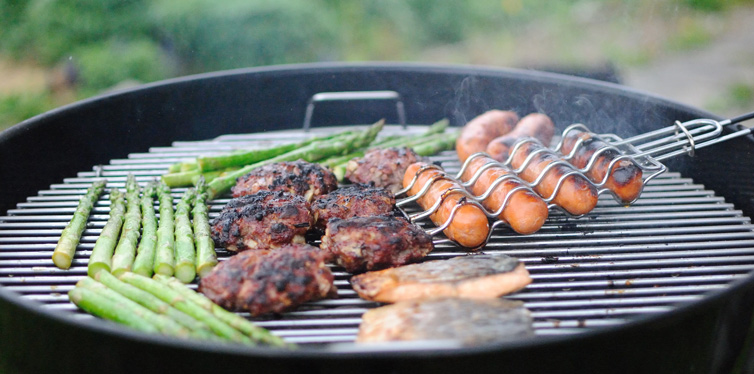 Ideal Grilling Temperature
The ideal temperature is crucial for cooking your food to perfection. You must be well aware of the required temperatures for the meat you are grilling to get it cooked to perfection.
Usually high, medium and low settings on grill refer to 200, 180, and 160 degrees Celsius. Always preheat your grill for 15 to 25 minutes to attain the required temperature.
For maintaining the ideal temperature for your grill, follow an expert's tip. Keep half your grill on a high temperature and half on a lower temperature. Transfer cooked food from high to low as to keep it from overcooking and keep it warm until serving.
Hotdogs Grilling Hack
If you want to amaze people with your grilling and presentation skills here is a great hack for you. Cut your hotdogs in spiral cut prior to grilling. Your dogs will not only look unique but will also cook well inside and out and have surface area for sauces to tastily mingle.
Sausages Grilling Hack
Sausages often contain a lot of unwanted fats. To get rid of it, simmer them gently in water before grilling. This will also keep your sausages moist before grilling and avoid the nasty fat spitting into the coals and onto you.
Perfect Pattie Hack
Everyone wants their burger pattie to be perfectly cooked through and mouthwateringly moist. Many expert chefs try different hacks to make that burger pattie stand out, and one simple yet highly effective hack is to hide a small ice cube in each burger pattie. How great is that! In the big half-pounders, the ice melts during the cook to keep the burger juicy. Keep in mind that experts also advise against adding too many onions and spices to burger meat when you are after the professionally cooked taste.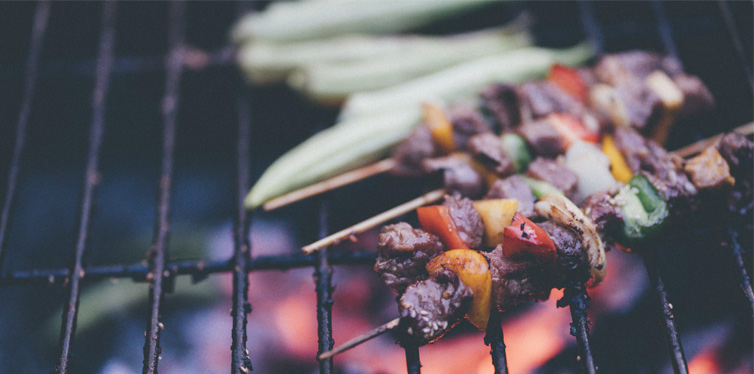 Kebab Grilling Hacks
Burnt skewers are a pain to clean and spoil the taste of a good kebab. Soak the skewers in cold water for half an hour before grilling and you get a fighting chance of avoiding the tarnish. You will already know how meat and vegetable pieces slip on the skewers, which make it almost impossible to be cooked evenly. To overcome this issue use two skewers for each kebab, stop the slip.
Mix Barbeque Platter
If you want to experiment new combinations in your barbeque party just screw anything you have on hand onto the skewers and grill them. You are more likely to introduce new unique combos at every party with this hack. In case you do not want to go with skewers, you may want to opt for rosemary twigs, as the substitution ads a special herbaceous flavor to the meat but makes your meat look gorgeous too.
Pizza on the Grill
When it comes to innovative ideas, there is no limit for creativity. Cooking your pizza on grilling pan may sound weird but it actually tastes mind-blowing. You can use a pizza stone or may even attempt to cook it directly on your grilling pan.
Adding Herbs to Your Food
Herbs are game changers in cooking and their beautiful aromas add to the overall sensory experience of eating before you even take the first bite. The most commonly used herbs are rosemary, sage, and basil but others more exotic can become part of your signature dish, lavender, hickory and oak are quintessentially BBQ. Take care though when you begin your experimentation, some herbs might be good for your health but can be overpowering in your food. Go easy at first.
Analyzing Your Cooked Meat
You know what it's like. Kids want their BBQ meat this way, grandma another and can your aunt have it the way you made it for her the year before last. Everyone has their own preference and you have to try and please them all if you want to look like a pro. To avoid 'raw in the middle' disasters it is well worth investing in a good quality cooking or meat thermometer and leave nothing to chance. If you don't have one you need to learn how to look very closely at the color or the meat as it cooks. Red is raw, pink medium. Do not be afraid to touch. Raw meat has more give than cooked. For a medium you are looking for the meat fibers to spring back.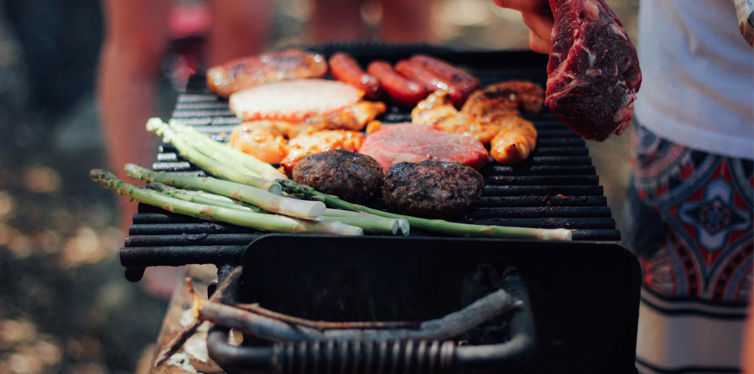 Cleaning Your Grilling Pan
There are residues of meat and vegetables which often get stuck on the grilling pan and are quite difficult to get rid of. If you scrub your grilling pan with harsh chemicals or rough scrubbers, you are more likely to ruin it. Here are two incredible hacks to remove the sticking mass from your grilling pan without damaging them and with very little effort.
·       Take a piece of aluminum foil and crumbled it in a ball. Rub the grilling pan with the aluminum ball while it is stillhot, and your pan will be all clean within minutes.
·       If you didn't clean your grilling pan when it was hot and now the sticky mass has gone hardyou can still get rid of it easily. Rub a piece of onion on your grilling pan and its acidic juice will loosen the sticky stuff from your grilling pan.
These barbeque hacks are amazing and with these tips and techniques, you can rock the barbeque party or camping night. You will become the favorite and most discussed BBQ host in your circle. So, keep grilling and keep experimenting.
Some Quickies to Help You More
These hacks are going to help you prepare some delicious foods, but here are some bonus tips to make your BBQ party go as smooth as possible.
Make use of a jar whenever you can to prevent a messy BBQ rub. All you have to do is put your meat in a jar along with all your dry spices and then shake it well. You might have to give it a good, hard shake, but it will ensure a mess-free coating.
Use apple juice when spraying your meat. You should do it before you start grilling and it will work wonders to prevent your meat from drying out. It works especially well for pork.
Take advantage of muffin tins for your condiments and save yourself from doing loads of dishes after a BBQ. You can limit the amount of tableware needed by putting condiments in a muffin tin. Of course, it required a couple of refills, but it considerably shorten the time you spend standing in front of your sink afterwards.
Use a smoker pouch when using an electric grill and it will add some additional smokiness to your meat. Simply take wood chips and wrap them into a foil envelope, and then create some holes and throw it on top of your burner.
Reduce your cooking time significantly by deciding to pre-cook meat in your microwave before throwing it on the grill. Just do not leave it in the microwave for long or you will miss that beautiful flavor of a fully grilled cut.
Overall, it wouldn't be wrong to suggest that anyone can be a BBQ expert so long as they are willing to learn and try some new and effective BBQ hacks. You already have a few with you, so go give it a shot!