GearHungry may earn a small commission from affiliate links in this article.
Learn more
Sweeten Coffee Alternatives
That first cup of coffee in the morning is a ritual. You need it to get out of bed in a morning. You need it to get ready for your day.
But if you are loading your coffee with sugar, you're putting your health at risk. It's absolutely full of calories, increases your blood sugar levels, and turns into acid which rots your teeth. And that's just the start. Sugar is the main reason for obesity and loads of health problems. In the USA, the problem is reaching epidemic levels, with the average American consuming 20 teaspoons of sugar a day.
Just that one or two teaspoons of sugar in your coffee could be affecting your health. So, what's the answer? Start drinking black coffee? Sure, that's the healthiest option, but if you're not used to the bitter taste, it's a big change to make. Luckily, there are loads of healthier alternatives to sugar that you might not know about!
Maple Syrup
Maple Syrup is basically the national dish of Canada. It's made from the sap of the maple tree (believe it or not) and is one of the most naturally sweet things on earth. You might have never heard of having maple syrup in coffee, but it's really common in Vermont and parts of Canada. It dissolves really easy in hot and cold drinks and has a really smooth, sweet taste that compliments the natural taste of coffee.
It's not to be confused with other syrups, which are basically made from sugar. Maple syrup is a natural product. It contains lots of minerals and nutrients, as well as antioxidants found in berries. That means you coffee in the morning can actually be good for you!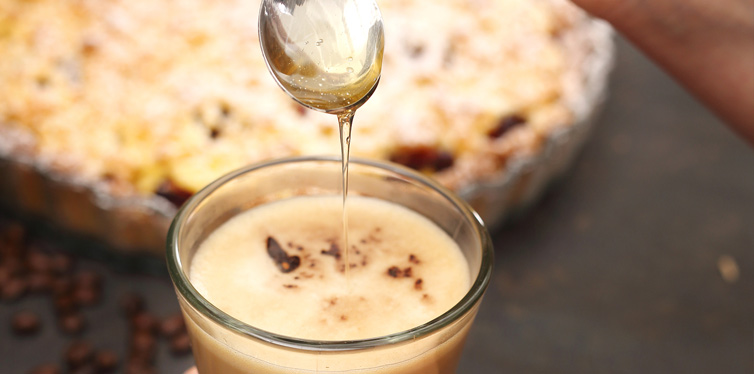 Cocoa Powder
Ever had a Mocha? It's the delicious and rich combination of coffee and chocolate that you can find in most coffee shops. Well, you can make it for yourself, and it's a lot healthier than you'd think. Add 1 to 1.5 tablespoons of unsweetened cocoa powder to your coffee beans. Then add a splash of cream to finish it off.
You might think that adding chocolate is as bad as adding sugar, but you'd be wrong. Cocoa powder actually has a lot of health benefits, but when you buy it in chocolate, it has loads of sugar added to it. Studies have actually shown that adding cocoa to your coffee can improve your cognitive function. Just make sure you buy unsweetened cocoa powder, the sweetened version is full of sugar.
Coconut Milk
Coconut Milk has become hugely popular in the last ten years, thanks to the rise of veganism. For many people, it tastes just as good as milk (or even better) and has none of the ethical or health issues that come with it. You can add coconut milk to coffee on its own or make your own coconut milk creamer.
To make your own creamer, add a sweetener like honey or vanilla extract (more on these later) to your coconut milk. Blend them together until they're mixed well, then add it to your coffee. Simple!
Coconut milk is a great source of vitamins and minerals, and 93% of its calories come from healthy fats. Some experts also believe it has unique benefits that you can't find in any other ingredients.
Honey
Honey is nature's sweetener. It's created by honey bees when they collect the nectar from flowers and it gets broken down into simple sugars to store inside the honeycomb. Interestingly, it actually contains more calories than white sugar, but is a much healthier choice for a few reasons:
Firstly, it contains mostly fructose and glucose. These basic sugars are easier to burn, so our bodies can process them more easily than complex sugars, like disaccharides found in white table sugar.
Secondly, honey is sweeter than white sugar, so we don't need to add as much to coffee to get that sweet taste.
Finally, the sugars in honey have a lesser effect on our blood glucose levels.
Coffee with honey in has a very particular taste, so it won't be exactly the same as coffee with sugar in, but don't knock it until you try it!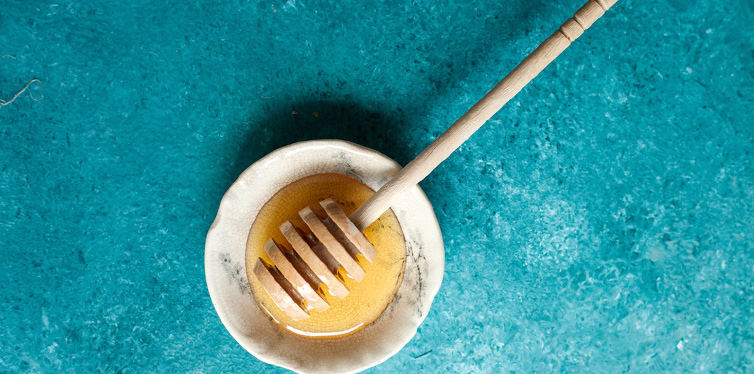 Vanilla Extract
Vanilla extract is another great natural and surprising sweetener. Normally used to add flavor in baking, you can pick up vanilla in most supermarkets and baking shops. Most people tend to add sweeteners to their coffee after it has brewed, but vanilla extract works best if you add it before brewing. Add 2 tablespoons to your empty coffee pot, then brew your coffee as you normally would.
Again, vanilla is a specific taste, so it's not a direct substitute for white sugar. But it will inject a bit of taste into your coffee and take away that bitter taste.
It has a relatively low-calorie count, compared to most sweeteners. It also acts as a natural antioxidant, which reduces your body's exposure to chemical damage, and has anti-bacterial properties. On top of that, it is anti-inflammatory and has even shown signs of boosting mental health.
Cream
Adding a cream to your coffee can be a great way of creating a rich, flavorsome coffee, without having to add sugar. Cream isn't as healthy as most of the options of this list and you have to be really careful which cream you choose, as some can be really bad for you. If adding cream is your thing, pick a healthy one and don't indulge more than once a day. In moderation, cream is an okay thing to add to your coffee, but if you're drinking more than 1 cup a day, we recommend trying a healthier option.
Dark Chocolate
Here's another one for those chocolate lovers out there. Take one square of high-quality dark chocolate and add it to your coffee for a rich and creamy coffee. This method works particularly well with a latte. It's worth investing in an expensive dark chocolate because it will have a stronger taste and better health benefits.
Dark chocolate is full of nutrients that will improve your health. It's one of the best natural sources of antioxidants you can find and has been shown lower the risk of heart disease. It can improve blood flow, lower blood pressure, protect your skin from the sun, and even improve brain function. All this from chocolate!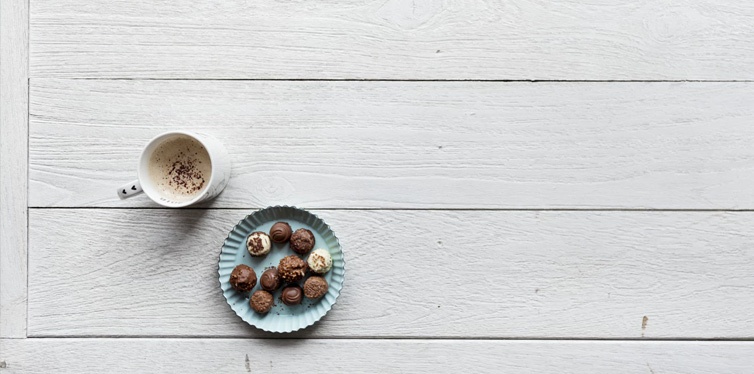 Almond Milk
Almond milk is the coffee supplement of choice for hipsters all over the world, and for good reason! Again, it has become super popular in the last decade or so because of vegans. Unlike cows, almonds don't have udders that we can use to milk them. Instead, they have to be soaked and put through a food processor, before being strained. The great thing about almond milk is that it gives the same consistency and a similar flavor to cow milk. It generally comes un-sweetened, but you can buy sweetened versions.
The health benefits of using almond milk are undeniable. It's really low in calories (compared to cow milk), doesn't raise blood sugar, can strengthen your bones, and reduces the risk of heart disease.
Butter
Butter? In coffee? On the face of it, it sounds wrong, but it's actually really tasty. A couple of years ago, there was a huge noise about how amazing people felt after trying butter in their coffee. You would hear stories of people with prolonged energy, no sugar crashes in the middle of the day, and increases in brain power. It sounded too good to be true.
In fact, adding butter to your coffee will give you these benefits. The taste isn't for everyone, but you have to try it before you know. Make sure you use unsalted, grass-fed butter like Yeo Valley.
Cinnamon
Cinnamon is one of the most effective ways to lose calories in your coffee and keep the sweetness. Add one teaspoon of cinnamon instead of your milk, cream, or sugar and you could save up to 70 calories per cup. Okay, so if you're not into the taste of cinnamon, it's not going to float your boat. But if you want a delicious, autumnal flavor, you can't go wrong.
Cinnamon is full of antioxidants (as much as half a cup of blueberries) and improves brain function. It's also really effective at soothing the symptoms of common olds and protecting against high blood sugar. On top of all that, you'll get a great, lasting energy boost that will see you through the day.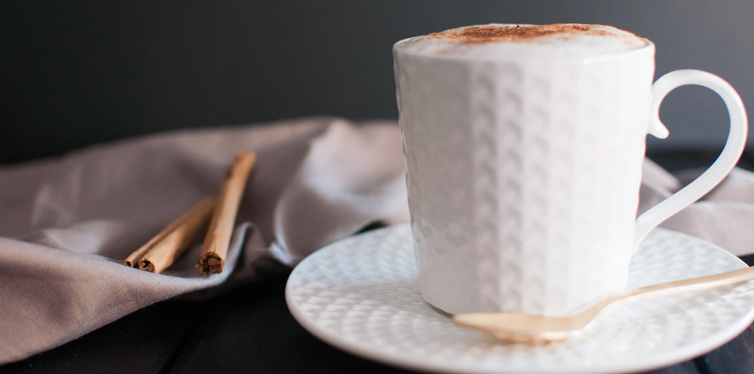 Stevia
If you've never heard of stevia, don't worry. You're in good company. Stevia isn't that well known but is a great natural sweetener that is 200-300 times sweeter than normal white sugar. You only need to add a really small amount to your coffee to create a delicious sweet hot drink.
When you're buying stevia, make sure you look for the unprocessed kind. A lot of stevia products are highly processed, but you want the type that is 100% stevia extract. It has no calories and is really healthy but can sometimes taste bitter.
Palm Sugar
Palm sugar is a natural sweetener derived from palm trees. The most popular kind is coconut palm sugar, but you can find loads of different varieties. Because it's unrefined, it is a lot healthier than white sugar and contains a lot of natural minerals and nutrients. It has a low glycemic index, so it won't adversely affect your blood sugar, but still gives you a great energy boost.
A lot of people that try coconut palm sugar thinks it tastes exactly the same as white sugar, so it seems like a no-brainer if you like your coffee sweet.
Sources
Coconut Milk Health Benefits and Uses – HealthLine