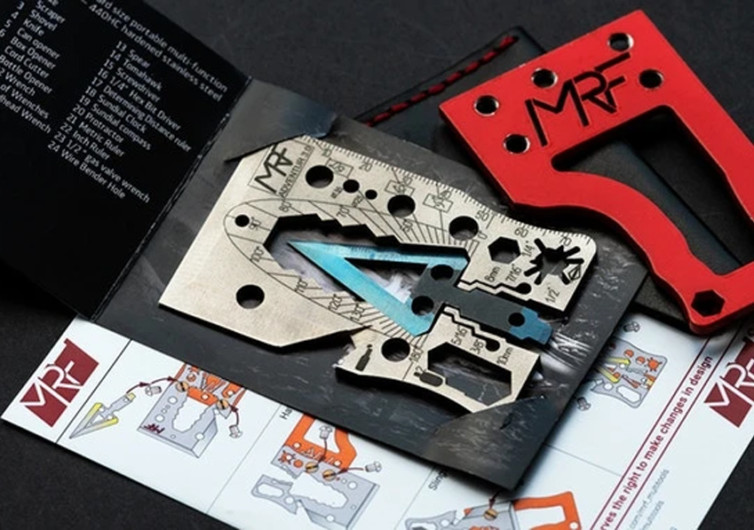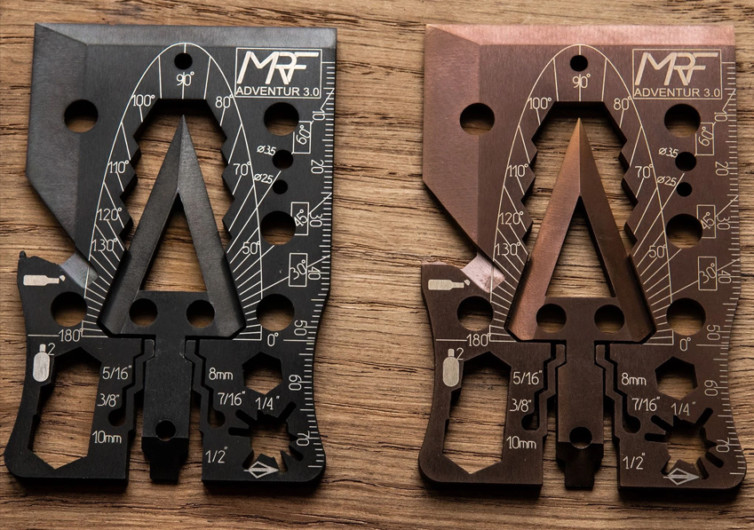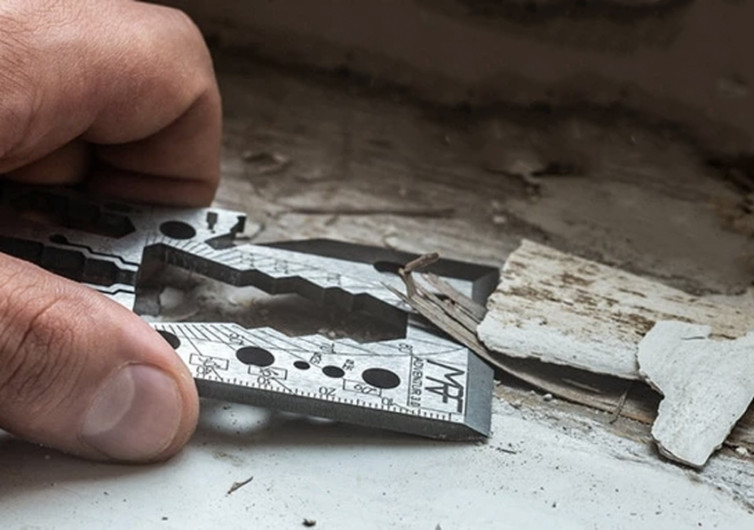 GearHungry may earn a small commission from affiliate links in this article.
Learn more
Adventur 3.0
We're fans of survival cards because they are small enough to stick in your pocket, where you are unlikely to lose them, even in a worst-case scenario. But the problems that come with tiny size are many: fiddly, easily losable parts, not enough durability to stand up to everyday bushcraft tasks, and no handles for ease of use come to mind.
That's why we like the direction MRF went with their Adventur 3.0 survival card. Like all survival cards, you can slip the Adventur 3.0 into your tactical wallet when you head into the woods because it's credit-card sized, and it has a range of tools that should be familiar to any survivalist.  But where the Adventur 3.0 stands out is its relative burliness. This card is hefty enough to use as an ax. You don't find that kind of toughness very often in gear that's small enough to vanish into your pocket.
Let's run through some of the tools. The ax capability comes from a generous cutting edge that takes up the entire top side of the card; by flipping the included arrowhead around while in ax mode, you can turn the tool into a wicked tomahawk. The arrowhead also doubles as a screwdriver. Rotate the tool 90 degrees on your stick, and you have a shovel that's more than effective enough for digging cat-holes, exposing grubs, or unearthing tubers.
The Adventur 3.0's left-hand side also has a cutting edge, coming to a point with the top cutting edge to form an effective box cutter. The left-hand edge transitions into a bottle opener halfway down the card, and this indention has an interior edge for cord-cutting. In between the bottle opener and the bottom of the card is a cut-out to help you turn three different common bolt sizes. This side-edge also works great on a magnesium rod for fire-starting.
One of our favorite features is the hole at the top of the card that's marked as a sundial. Keeping track of the time is essential in the wild, and the sundial clock feature can give you at least a rough idea of when you'll need to get safely back to camp.
Across the card from the wrench cut-out is an arrow-wrench tool, handy for switching out broadhead arrow-tips if you happen to be an archer.
The Adventur 3.0 shines with the addition of a handle (it's MSRP $13 extra). The slim, ergonomically designed cut-out handle bolts easily to the card for storage and then can unbolt and re-bolt in several different configurations depending on the tool you need. More torque is always good, and the handle delivers it. The handle also allows you to use the Adventur 3.0 as a more traditional knife and provides more stick attachment point options when in hatchet or tomahawk mode. Finally, the handle doubles as a wicked slingshot (a slingshot band is included with the purchase of the handle).
The Adventur 3.0 comes in four material options: 440C silver hardened stainless steel, titanium, gunmetal stainless steel, or patina stainless steel. We'd either choose titanium (MSRP $55) for its weight or the 440C hardened option (MSRP $45) for its durability. Either way, you'll be getting a great tool that's sure to handle whatever you can throw at it.
CHECK PRICE ON MRFMTS.COM