GearHungry may earn a small commission from affiliate links in this article.
Learn more
Essentials For Your Kitchen
There are many things an experienced cook needs in the kitchen, but unfortunately, not all of us know how to make a decent baked fish, let alone a smoked royal salmon fillet medallions. For simple folks like us, a few kitchen essentials are all we'll ever need. But where to even begin? Which so-called "kitchen essentials" are actually essential? We bring you – 8 no-brainer essentials every man needs in the kitchen.
1. Knife Sharpener
If you want to eat healthily and maintain a fit figure, you need to chop a lot of vegetables. While kitchen knives are important tools for this, we're here to tell you that a knife sharpener is even more important. Here's why: instead of buying an expensive knife set or a few different knives (a chef knife, paring knife, serrated knife, boning knife… you get the picture), purchase two or three essential kitchen knives and a good-quality knife sharpener and you'll be all set. Not only will you save money this way, you'll actually have a neater kitchen  – not to mention, fewer dishes to wash!
But there's another reason why you need a good knife sharpener – no matter which or how many knives you buy, sooner or later they will all have to be sharpened. Dull blades not only do a lousy job at cutting food, they're also less safe to use than sharp knives. This is because dull knives skip or drag while cutting into things, thereby increasing your chance of injury. So what is one supposed to do when their favorite kitchen knives become dull? Well, you have a couple of reasonable choices and one questionable option here:
Buy new kitchen knives every time the old ones go dull (the insane option)
Learn to sharpen your own knives properly (which is a skill like any other, so it requires a lot of time, practice, and patience)
Pay a pro to sharpen your knives frequently (can be quite expensive)
Or, take advantage of the 21st century and use an electric knife sharpener.
A good-quality knife sharpener, the one that fits your own needs, preferences, and budget, can save you a lot of time and money. It's quick, it's simple and it's safe. A real kitchen essential, if you ask us.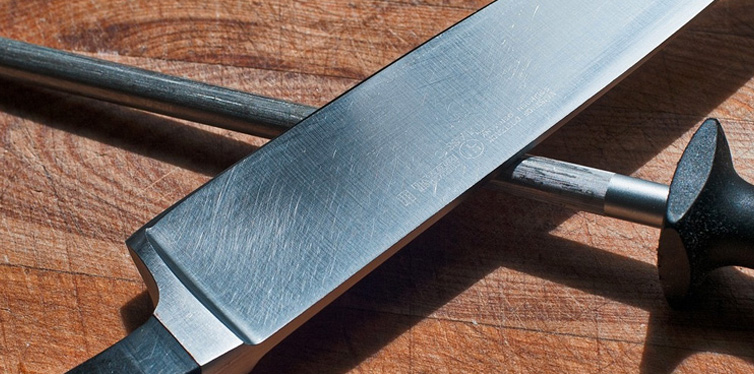 2. Meat Cleaver
If you're going to buy only two or three kitchen knives, let the meat cleaver be one of them. This large knife is arguably the most versatile knife you could own – sure, most people associate them with butcher knives, and while cleavers are certainly excellent at cutting through bone and hacking off large pieces of carcasses, they have much more uses than they get credit for. For one, a meat cleaver cuts through meat better than any other knife, including the standard steak knife. Although they look massive, they're light and dexterous,  making them perfect for not only cutting off large chunks of beef or pork but for slicing small, delicate pieces of chicken or turkey. Two, they're great for slicing many veggies at once, especially large ones such as butternut squash, as they're so large and broad-faced. You can even use them to smash garlic – the flat of the blade is excellent for this. And if you buy a whole bird, say a duck  – you know what's going to help you bone out that bird? Certainly not a pairing knife.
Another reason meat cleavers are considered a kitchen essential is their durability. If you buy a good-quality cleaver, you'll be set for years, maybe even decades, depending on the amount of money you're willing to spend. Speaking of money, it's good to know that most meat cleavers are super-affordable. It's no wonder really, as they're made of carbon steel, while the handle is made of wood.
So, if you're a big meat-eater and you prefer making your own meals most of the time (which you should if you care about your health at all), we highly encourage you to purchase a quality meat cleaver. It will make separating those baby-back ribs a piece of cake.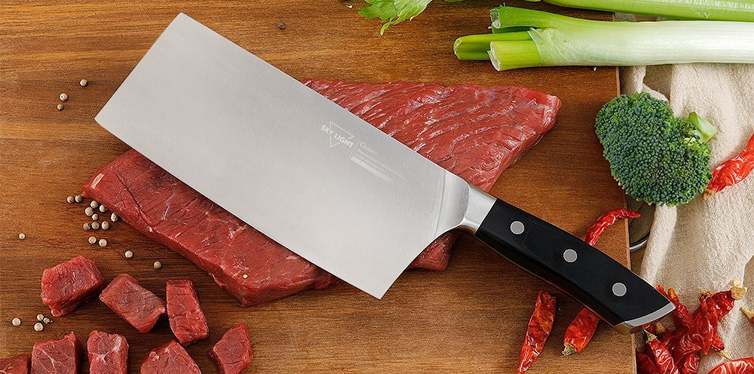 3. Coffee Machine
"Good morning starts with coffee" – whoever said that, knew what they were talking about. A fresh cup of joe first thing in the morning – or even better, after a hearty, tasty breakfast –  makes any day a bit brighter and any mood more productive. Not to mention, there are several studies showing coffee's health benefits, including:
It boosts energy levels and concentration
Lowers the risk of type II diabetes
Protects against dementia and Alzheimer's
Lowers the risk of Parkinson's
Helps you burn fat easier
Has protective effects on the liver
Can actually help you live longer.
This is all not so surprising, considering that coffee is the biggest source of antioxidants in our typical, western diet. To reap all of these health benefits of java and then some, though, you need two things: good-quality, fresh coffee beans and a proper way to turn them into your favorite cup of joe. We believe you can take care of the former, but for the latter, you obviously need a quality coffee machine or a good pour-over coffee maker if you're into doing everything manually. Whatever you choose, know that with a good coffee machine, you'll be actually saving money long-term. Yeah, we know what you're thinking: A cup of coffee at my favorite place costs no more than three to five bucks, while a quality coffee machine costs around $100! How is that saving money? But here's the thing – buying a coffee machine is a one-time investment. Sure, it may seem like a lot of money to spend at once, but if you choose well, you'll be set for years to come. Just do the basic math: say you're buying your $3 -$5 coffee five days a week, every month – how much is that on a monthly basis? Now consider how much you're spending on a yearly basis. Got your attention?
A good-quality coffee machine will be saving you money long-term so much, you'll wonder how you ever lived without it.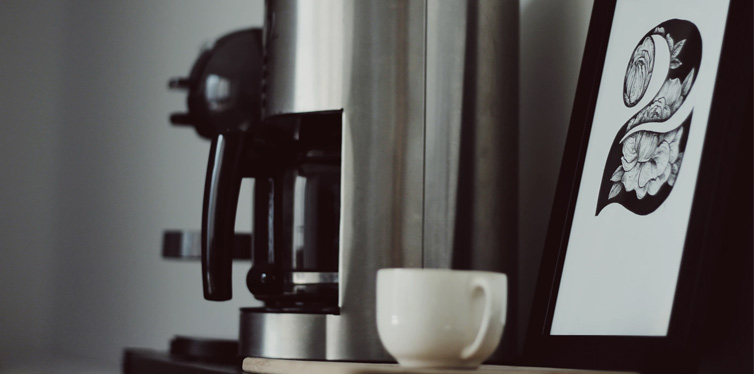 4. Coffee Grinder
Besides a quality coffee machine or pour over coffee maker, what do you need to make an excellent cup of coffee? That's right, tasty, fresh coffee itself. The only problem is, pre-ground bags of coffee can never be as fresh as just ground coffee. They'll always lack in flavor, aroma and antioxidants. Also, let's face it –  a store-bought cup of coffee or pre-ground bag of coffee can never measure up to making your own cup of java from scratch.
Owning a coffee grinder also gives you the world of possibilities. In the mood for some cold brew coffee? Too bad that pre-ground super-fine bag of coffee beans won't be able to turn itself into a decent cold brew beverage. See, different coffee brewers need to be paired with different, appropriate grind sizes. So for instance, that cold brew coffee you craved? You need coarse grinds for that. The same thing with a french press, coarse grind sizes work best. As for espresso, you want super fine grinds, while pour over coffee works best with fine to coarse grinds. With a reliable coffee grinder, you can set the grind size so that it compliments your brewer, and as a result, make a perfect cup of coffee. In fact, we'd go so far as to say that when it comes to coffee gear, a coffee grinder is probably the most important piece of equipment.
And if you're a true coffee enthusiast, it becomes even more important. It's easy to tell a difference between fresh and stale coffee, and properly prepared vs lousy prepared coffee. But when you're a true coffee lover, you can tell good java vs bad java from the smell alone. Nothing, truly nothing can replace fresh, just ground coffee that is full of flavor and aromatic oils. And honestly, life's too short to drink stale, bad-tasting coffee every single morning.
But that's not even all – with a great-quality coffee grinder you can even grind certain spices if you want to. In need of some fresh cinnamon for that latte? No problem, just toss it in your coffee grinder and off you go. Same thing with certain dried herbs – you can easily grind some basil or thyme and prepare a perfect roast beef.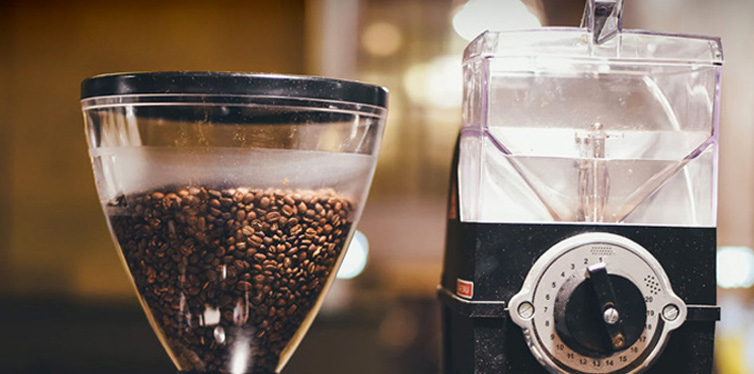 5. Blender
Blender is such a versatile appliance, it's crazy not to own one in your own kitchen. With a reliable blender on your kitchen countertop, you can make quick, healthy snacks and entire meals, post-workout shakes, desserts, frozen alcoholic beverages and many other things. In fact, if you're struggling with healthy eating, we strongly encourage you to buy this handy little appliance – it will make your life and your diet, so much easier. For a simple and super-healthy breakfast, all you need is a few ingredients, a blender and literally a couple of minutes. Here's an idea: toss in some dry oatmeal, protein powder of your choice, a handful of frozen blueberries, another of frozen strawberries, a little bit of fresh spinach or kale and finally some liquid of your choice (milk, orange juice or whatever you like). Push the button and voila – a healthy, antioxidant-packed breakfast/snack. With a reliable blender, it's almost too easy to eat healthily!
Speaking of healthy eating, if your late night snacking is ruining your diet, get yourself a blender – you'll thank us later. Instead of drowning in greasy chips and coke, pour a scoop of chocolate (or whatever taste you like) protein powder and some water in your blender, and you got yourself a delicious and nutritious snack/late night meal. And if you're trying to bulk up? Instead of eating meat with every meal (it's expensive and frankly not that environment-friendly), blend some protein powder with milk and you'll get an extra 30 grams or more of protein in no time. You can even drink it in-between your meals if you're really trying to pack on the pounds.
Besides, a good blender is a time-saver. Say you're making an elaborate dinner party (lucky your guests!) and you need to do a lot of chopping, blending, grinding and so on. Sure, do some things manually, but that creamy butternut squash soup? Make it in the blender. Same thing with sauces, purées and even batters and dough. Seriously, you can make practically anything in a blender quickly and easily, which is why we believe it's a kitchen essential whether you're into basic, simple cooking or you're an aspiring chef.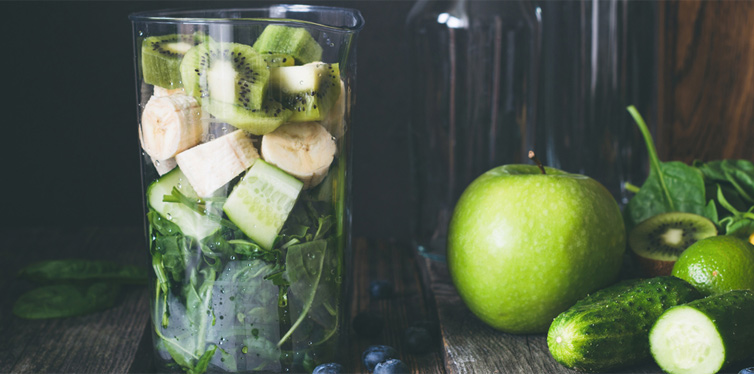 6. Juicer
There are some things in life that just taste better when freshly prepared. Coffee is definitely one of them, as well as fresh croissants, but nothing, absolutely nothing beats a nice, fresh cup of juice when you're craving something sweet but healthy.
You may think you don't need a juicer if you have a blender or vice versa, but these two appliances are totally different essentials: blender is fantastic when you want a healthy, rich in fiber meal, and it's honestly an irreplaceable kitchen appliance. But no matter how versatile your blender is, it will never be able to make a perfectly smooth glass of juice. And that's fine – more than fine actually, as blenders are supposed to process the whole of an ingredient, or the in a case of a fruit: flesh, pulp, juice and even seeds if you want them. Juicers, on the other hand, separate the fiber from the fruit or vegetable, thereby creating a perfectly smooth, fresh juice. You can think of it in simple terms: blender blends everything together, hence, the smoothie; juicer separates the juice from the fruit/veggie, hence, the juice.
Obviously, if you're not a big juice-drinker, you can scratch the juicer from your kitchen essentials list, but if you are, a good-quality juicer is a must. It's a quick solution to healthy eating if you're struggling to get all the important vitamins and minerals throughout a busy week. Plus, it saves money long-term as you don't have to buy juice cartons every single time you crave fresh juice. Also, if you have a sweet tooth, making your own rainbow-juice is probably the healthiest treat you can get.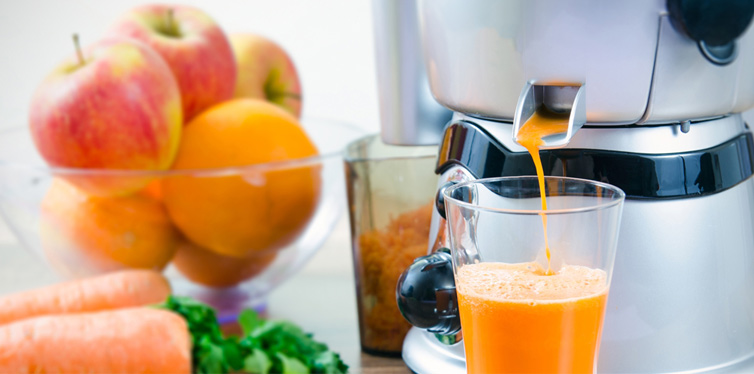 7. Water Cooler
While some people would argue a water cooler is an office-essential only, we beg to differ. A good-quality water cooler is a kitchen essential, period. Here's why: today, most cities have heavily chlorinated water, which not only tastes funky but is of low quality. In fact, some places with old, iron pipes have high metal content in water, including iron, copper, and manganese, which are known contaminants and not something you want in your everyday drink. Enter the water cooler. These handy appliances not only chill your water constantly and consistently but most are fitted with filters that make water purer and better tasting.
And if you work from home? A water cooler is a must. Tasty, chilled water encourages you to drink more, which is not only great for your overall health but can actually boost your energy levels and brain function, thereby making you more productive (seriously, it's scientifically proven!). So instead of turning on the tap and letting the water run for several minutes every time you want a nice, chilled glass of water, why not use a water cooler and actually realize some water savings long-term? Plus, most water coolers nowadays produce not only cold but hot water too, which is super-handy when you want a quick cup of tea or maybe even some hot chocolate after a long day of work.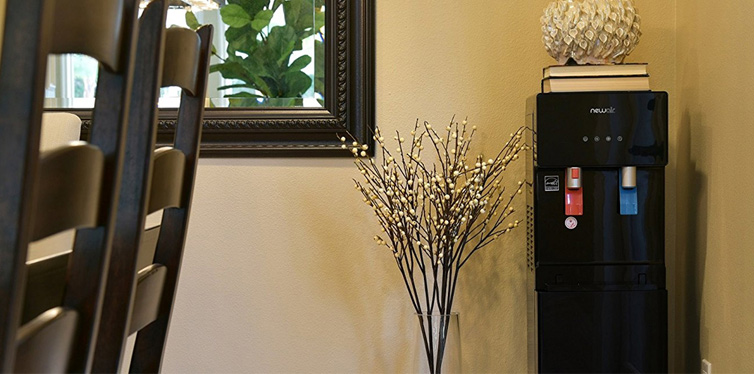 8. Beer Koozie
And we're finally at the fun stuff  – beer koozies. Sure, this may not be a kitchen essential-of-the-essentials, but if you're a beer-lover like every other man is, a beer koozie is one big fat must have, especially during hot summer months. These little guys insulate chilled beers (or whatever else you like to drink on scorching hot days) from warming by… well, pretty much anything, from warm air to sunlight. This makes them perfect for backyard cookouts, pool parties, camping and any kind of outdoor drinking. In fact, it's great for indoor drinking as well! A cool little beer koozie, some popcorns and your favorite movie, and you'll have something to look forward to after every single long day of work.
Besides keeping your precious beer cool and fresh, most modern bottle jackets will also protect your beverage from outdoor elements and harsh conditions, which makes them perfect for rough camping and long beach days. Also, many koozies today can also keep your beverages hot for hours on end. So, if hot coffee or cocoa is more of your thing during winter camping, a quality koozie is the way the go.
But the reason we chose to put a beer koozie as a kitchen essential is – it makes life easier and more comfortable and in the end, isn't that what essentials are all about?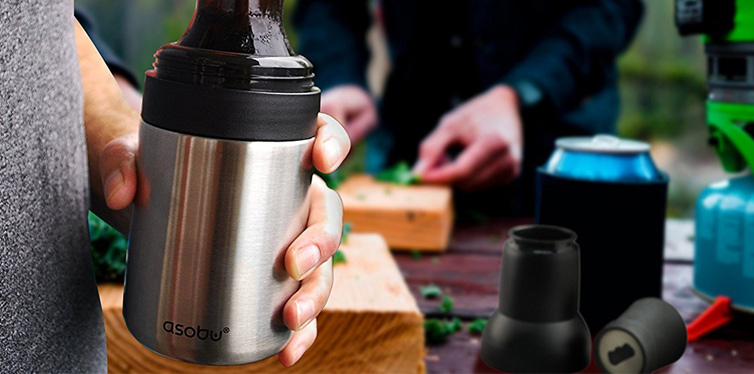 Sources:
13 Health Benefits of Coffee, Based on Science, HealthLine