GearHungry may earn a small commission from affiliate links in this article.
Learn more
Benefits Of Drinking Water
While it's come to light in recent years that the recommended suggestion of eight glasses of water a day is merely a guideline rather than anything based on scientific evidence, it's still true that we need to be staying hydrated every day for a wide range of reasons. The amount of water we each drink depends on our age, weight and how energetic we are throughout the day, as well as the climate and altitude.
Staying regularly topped up with fluids is vital no matter what, as our bodies are constantly losing water due to breathing, skin evaporation and going to the bathroom. These fluids have to be replaced for healthy bodily functions and adequate levels of energy –drinking water is essential for our health. The sugary drinks that many of us have come to rely on might be nice as a treat, but for everyday hydration, the simpler stuff is best. Here are six reasons why we should be monitoring our water intake throughout the day and just some of the benefits of proper hydration.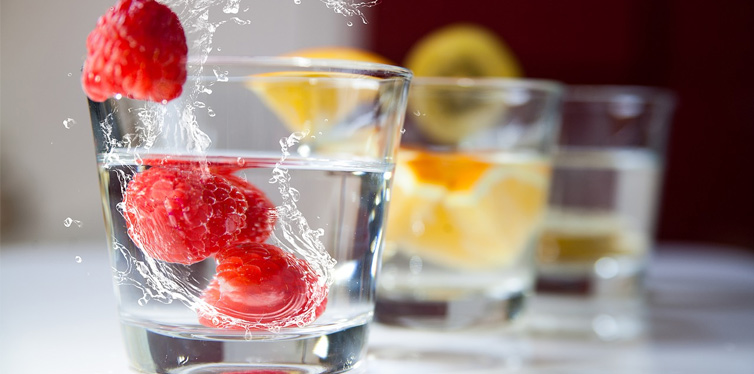 It Helps to Maintain Your Bodily Functions
Our bodies are actually composed of around 60% water, meaning that many of our bodily functions require adequate hydration to work properly. This includes absorbing vitamins and nutrients, proper circulation, digestion, creation of saliva and maintaining body temperature. The brain uses the posterior pituitary gland to communicate with your kidneys regarding how much water to excrete from the body as urine and how much to keep in reserves.
If you're running low on fluids, this triggers the body's thirst mechanism which we often ignore. But unless you're taking medications that cause you to feel thirsty, it's important that you listen to these hydration cues and get a drink of water, tea, coffee… basically, anything besides alcohol will do the trick in helping your organs to function better. While a beer or a glass of wine may feel refreshing, it interferes with the communication between the brain and kidneys, meaning you excrete too much fluid which makes you dehydrated.
Dehydration doesn't just occur when you've been drinking alcohol though, and it can trigger headaches and migraines in some people. Several studies have shown that drinking water can help to relieve these types of headaches or, at the very least, lessen the intensity – so if you've got a headache, try upping your water intake to clear it.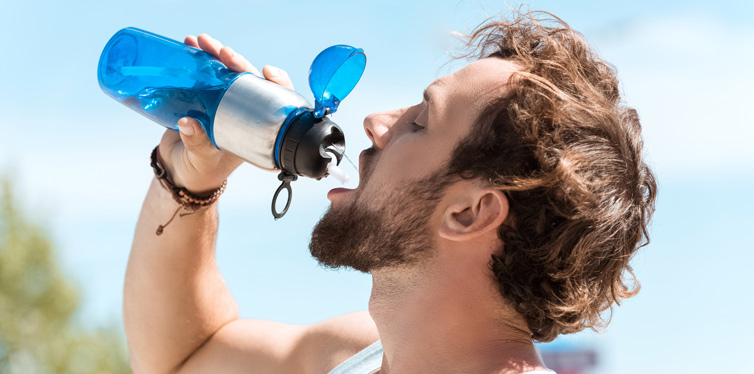 It Can Aid Weight Loss
Water has long been a trick of dieters to help them lose weight, but while it's not a miracle weight loss strategy, there is some truth behind this method. It can help you to control your calorie intake and using it as a substitute for higher calorie beverages like fizzy drinks or sugary coffees can be beneficial to shifting the pounds.
Water doesn't have to just come from the tap though, you can also fill your diet with foods which are higher in water content too. Not only are they great for keeping you hydrated but they're also filling and low in calories, so they help to trim your intake. These types of foods include vegetables, fruits, broth-based soups, beans and oats – they're foods which tend to look larger and the higher volume means more chewing, which in turn means they're absorbed more slowly so you feel fuller.
Your Workout Will Benefit
When hitting the gym, staying hydrated it key to maintaining great physical performance. This is especially the case when it comes to intense exercise or if you're working out in high temperatures. Dehydration can have a noticeable impact if you lose even as little as 2% of your body's water content, but it's not uncommon for athletes to lose as much as 10% of their water weight through sweat. The result of this is higher levels of fatigue, lower motivation to carry on exercising and it can even alter your body's ability to control your temperature, all of which can make exercising feel even more draining – both on a physical level and mentally.
The best, and easiest, way to combat this is to drink more water. It can even help to reduce oxidative stress, some studies suggest, which can occur during high impact exercise. This isn't surprising when you consider that our muscles are made up of 80% water. It's recommended that we drink around half a litre of water about two hours before we work out, and then continue to stay hydrated throughout the workout to keep these levels topped up. Keep a water bottle in your gym bag to help remind you so you don't forget to drink throughout your gym sessions.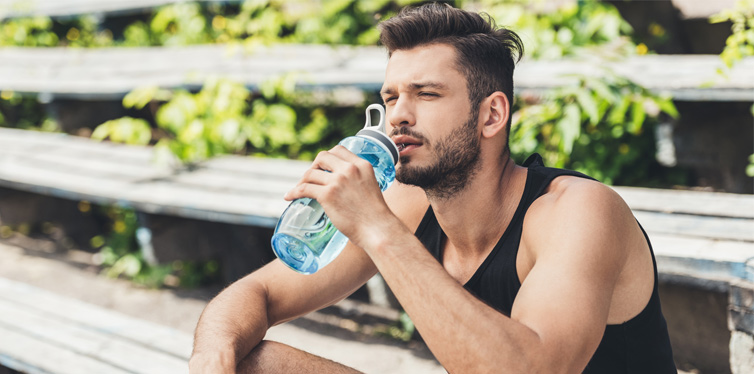 Your Kidneys Can Function More Effectively
Bodily fluids assist our organs in getting rid of waste products in and out of cells, and the main toxin to the body is blood urea nitrogen – a water-soluble waste product that the kidneys excrete through urine. The kidneys work incredibly hard to cleanse the body and rid it of any harmful contaminants, providing we keep ourselves hydrated. In other words, when we drink enough fluids, we pass urine more regularly which is light in colour and odourless. But, if you're not drinking enough, you'll notice that your urine is darker and the odour increases – this is because the kidneys are holding on to extra fluid to maintain bodily functions.
And if you're drinking too little on a regular basis, you could be increasing your risk of developing kidney stones. These urinary stones are painful clusters of mineral crystal which can build up in the urinary system. While there is limited evidence to suggest that your water intake can prevent recurrence in people who've already suffered with kidney stones, having a higher intake of fluids each day can increase the volume of urine you pass. This in turn dilutes the concentration of these minerals meaning they're less likely to crystallise and clump up into painful stones.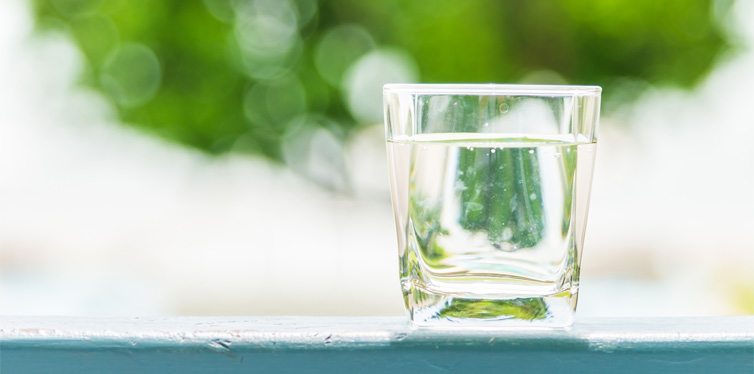 It Keeps Skin Looking Its Best
Skin contains a large amount of water and it functions as a protective barrier against excess fluid loss. Dehydrated skin can look wrinkled, grey and dull, all of which can be improved with proper intake of fluids. A lack of water can make our skin feel dry and flaky, so it's important to hydrate from the inside out. Making sure you drink plenty of water each day can also help the kidneys to remove excess toxins, which can often build up in the body and cause the skin to inflame, resulting in clogged pores, acne and excess sebum to develop. Scientists may say that water isn't the cure for wrinkles but drinking plenty of H2O will ensure that your skin stays supple and soft for a more youthful appearance, as well as preventing it from looking too parched.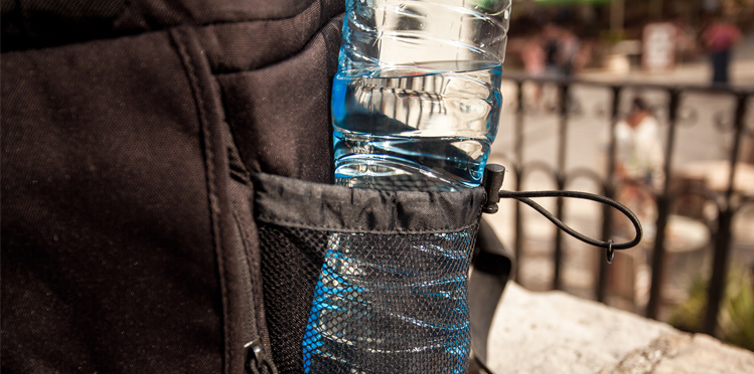 It Boosts Brain Power and Productivity
Studies have shown that your brain is highly affected by how hydrated it is, with even mild dehydration impairing many aspects of brain function. In fact, it has been proven that fluid loss of just over 1% after exercise can impair both mood and concentration, as well as the frequency of headaches. It can also have a detrimental effect on memory and increase the feelings of fatigue and even anxiety in some people. This is to be expected given that our brains are largely made up of water, like so many other aspects of the body.
A 1 to 3% loss of fluids accounts for around 1.5 to 4.5 pounds of body weight loss in a 150lb person, which can easily develop just through everyday activities like doing the housework or walking to and from work, let alone through exercising or higher temperatures. With this in mind, it's a good idea to stay hydrated each day to keep your productivity and energy levels up, boost your brain power and help to alleviate feelings of anxiety. A cold glass of water on a regular basis throughout the day will keep you feeling refreshed and alert, so you can tackle the tasks of the day with an improved feeling of liveliness.
If you think you should be drinking more, there are some easy ways to increase your fluid intake without it feeling like a chore. You're more likely to drink water if you enjoy the taste, so consider adding flavours like fresh berries, lemon or lime juice, or even a few sprigs of mint. Water doesn't just count when it's straight from the tap though, as tea, water-rich fruits and vegetables all add up as well. If you keep an empty bottle with you at all times, you'll be reminded to top up throughout the day, so keep one in your car, on your desk or in your bag for easy access. Lastly, have a drink with each meal or snack to stay topped up on fluids regularly throughout the day. The routine of having a beverage with your meal will not only help remind you to drink more but it will also help aid digestion.