GearHungry may earn a small commission from affiliate links in this article.
Learn more
Coffee Recipes
Absolutely nothing says "Good Morning" like the smell of freshly brewing coffee. This magical brew has become a vital part of the start of any day. So much so, that it is estimated that over two billion cups of coffee are consumed every single day around the world. Once upon a time, coffee was simply brewed in a pot and usually drunk black, with or without sugar, and for the light-hearted maybe a little creamer or milk. Today we have dozens of methods and appliances to make coffee with a range of added extras and baristas in high end cafes have turned coffee making into an art form. Coffee today comes with an endless variety of flavored syrups, foams, and other additives, but to keep the taste of coffee as pure as possible, we'll take a look at recipes that involve black coffee or perhaps with the addition of a little bit of dairy or a shot of liqueur.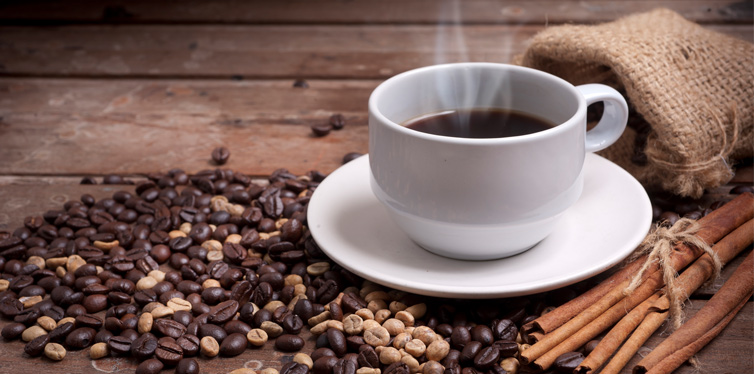 Coffee With Milk, Cream Or Foam
Cappuccino – Every coffee lover and drinker in the world has at one point tried a cappuccino. Nothing beats this double shot of espresso with a stunning top of steamed milk foam. This coffee is simple yet hugely popular. You can make it the traditional way if you have a coffee machine with a milk frother.
Affogato – This is more or less a dessert type of coffee but incredibly simple. Place a dollop of cream or ice-cream into your cup and pour a shot of espresso over the top. If you're feeling really adventurous you can also add a little liqueur like Amaretto.
Caffe Macchiato – The literal translation of this coffee is "stained coffee". In essence, it is a shot of espresso with just a tiny touch of milk. Depending on which cafe you are enjoying your macchiato, the milk may even be foamed. Macchiato style coffee is also possible to make at home if you have one of the many pod coffee machines available on the market.
Caffe Latte – This is one of the simplest forms of milky coffee. It is made with a shot or two of espresso with the addition of steamed milk. Caffe Latte is easy to make at home, with or without a coffee maker but if you want a fancy looking latte there are baristas who add a little touch of art to the top of your cup.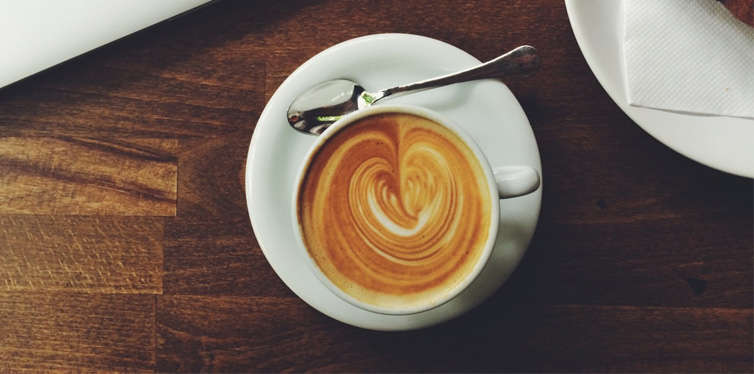 Caffe Mocha – Another simple form of coffee. Almost identical to a latte but with the addition of chocolate. The chocolate could be cocoa powder but occasionally you may find a cafe that uses chocolate syrup.
Cafe au Lait – Don't mistake this coffee for white coffee. White coffee is nothing more than black coffee with cold milk or whitener added. Cafe au Lait on the other hand is coffee prepared with hot milk. The most common way to prepare this coffee is to heat milk in a saucepan and add strong ground coffee. Sweetened or unsweetened it's a great coffee to have on a cold winter morning.
Cortado – Perhaps you don't really like milky coffee but also find straight black coffee a little too acidic. A cup of courted may be more suitable for you. Basically it consists of equal parts of coffee with warm milk.
Antoccino – This is possibly the first cousin to the cortado in that it is made up of equal parts of espresso and steamed milk. The simplicity of this coffee means most people will not order it in cafes, but rather make it for themselves at home.
Irish Coffee – This is a cheeky way of combining coffee and a cocktail. It comprises of hot black coffee, a good shot of Irish Whisky and sweetened to taste. It is then topped with whipped cream and the best way to drink it is through the creamy top layer. Have enough of these and you'll be wide awake and possibly staring at leprechauns.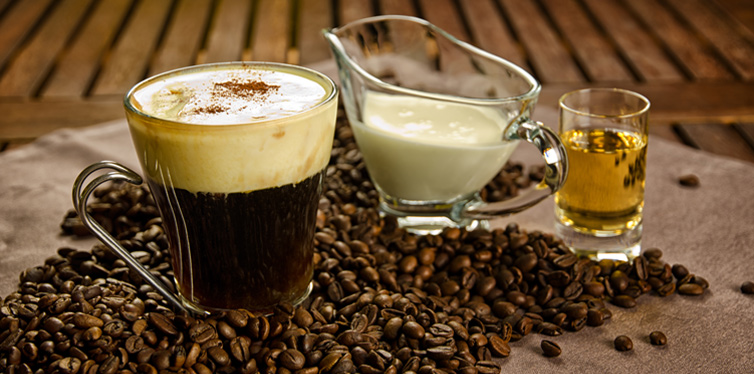 Black Coffee
Espresso – The coffee flavor in a good cup of espresso is quite intense. Basically, hot water is forced through the coffee grounds to extract as much flavor as possible into a rather small cup, or a shot. In Italy this is the most common type of coffee but you never order an espresso but simply ask for uncaffe. These days you can easily make espresso at home with an espresso machine or a pod coffee maker.
Moka – If you're a bit of a traditionalist when it comes to making coffee, then you will love the coffee you make in an old-style moka pot. Basically, this is a two chambered pot that forces hot, pressurized water up from the bottom chamber, through the coffee grounds and into the upper chamber. The flavor of the coffee is similar to espresso and quite intense. This pot is very popular in Italy and other European countries, particularly for those who enjoy a quiet cup of coffee at home.
Liqueur Coffee – If you love a good cup of black coffee with a little something extra you will find a variation of liqueur coffee practically everywhere you go. Quite simply it is just a dose of any type of black coffee with a shot of liqueur. The type of liqueur you add will depend on where you are and the types of liqueur available. This is a great way to sneak in a shot without being obvious and you can also add cream if you like.
Ristretto – Good things come in small packages. So they keep telling us. When you order a ristretto that's exactly what you get. In principle a ristretto is an espresso with half the water. This makes for a more intense burst of coffee flavor. If this is the coffee you really love and that one little burst is not enough, you may want to order a double ristretto.
Lungo – A lungo is the exact opposite of a ristretto. Often referred to as a long espresso, it is espresso with a double dose of water. The result is a larger cup of coffee that you can enjoy for a little bit longer.
Turkish Coffee – This is a coffee that may take a bit of getting used to, but once you do, it's a nice strong cup of coffee. The coffee grounds need to be very finely ground and they are placed directly in a traditional coffee pot called a cezve. The water and sugar are also added and then it is put on the stove until it only just reaches the boiling point when the coffee grounds start to foam. The coffee is then poured into small cups and left alone for a few minutes so the coffee grounds can settle.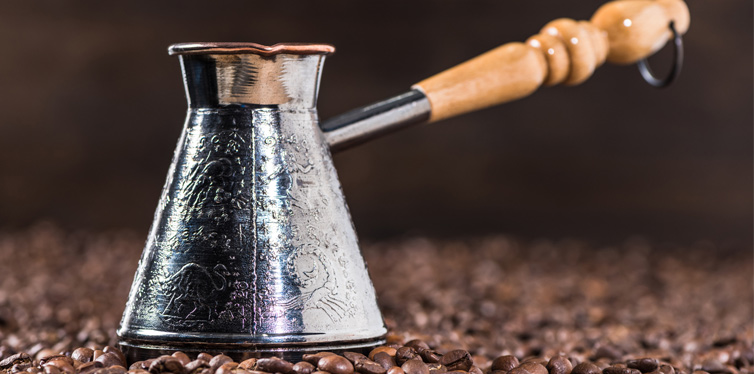 French Press –Also known as a coffee plunger, this is one of the easiest ways to enjoy great coffee at home. The coffee is placed in the pot and freshly boiled water is poured in. You can give it a little stir but then you leave it alone to brew for a few minutes before "plunging" the filter down so that you can pour your coffee without the grounds.
Filtered or Drip Coffee – This is another simple type of coffee you can very easily make at home. It is made in a special type of coffee maker. Coffee is placed in a special filter cup and the chamber of this appliance is filled with cold water. It comes with its own coffee pot which is placed under the filter compartment. When it is turned on, hot water gradually drips through the coffee grounds and into the pot below. When the process stops you can serve the coffee any way you like it. This coffee maker is a favorite for early morning coffee drinkers as you can set it all up at night and set a timer to start the brewing process so that fresh coffee is waiting for you when you get up in the morning.
Cold Brewed Coffee – A cup of cold brew coffee is quite easy to make but it does take a considerable amount of time if you want great flavor. All you need to do is to mix your favorite coffee with cold water and let it steep for 12 – 24 hours. You can then filter the coffee through coffee filter paper or by using a French press. As the beans of this coffee are not heated, you get a less acidic tasting cup of coffee that you can serve over ice with milk or cream.
Caffe Americano – The story behind Caffe Americano is that this brew originated with World War II American soldiers who would take a cup of espresso and add copious amounts of water to it so it would resemble the coffee back home. Although the story is possibly just an old rumor, the coffee does indeed involve adding a lot of water to a cup of espresso or ordinary black coffee.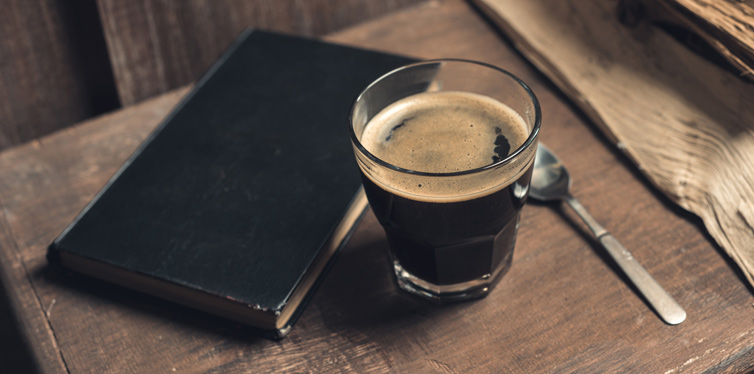 Caffe D'Orzo –We thought we'd end our list of amazing coffee recipe with a caffeine-free version. The grounds are made from roasted barley and can be made espresso style or in any type of coffee maker. It has a similar taste to chicory and is a good coffee substitute if you are worried about your caffeine intake.
No matter how rushed your lifestyle may be, try and take the time to sit back and relax with your favorite cup of coffee. This is the only way to fully appreciate this magical brew.