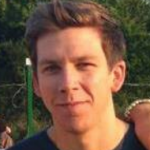 Gym For Beginners
It takes about three weeks to create a habit, so if you don't give up on exercising for 21 days, the gym is going to become a part of your life. But, the first three weeks are usually the most difficult. Not only is it hard to work-out with weights if you haven't done it before, but these kinds of exercises can seem boring to some.
To prevent you from giving up on it, we've decided to give you some useful tips. Our suggestions are gonna make you fall in love with working out, as well as serve as a warning of how to avoid getting injured or disliked by your gym buddies.
1. Train with Friends
If you would rather spend time with your friends in a pub, it's best to bring one of those friends with you to the gym. You won't get to drink booze in the gym, but you'll get to chat with your buddy. Of course, you need to make sure not to turn the gym into a place for hanging out, as this can annoy the other members. And if you do that, at least make sure not to get in their way or occupy the machines they need to use.
Also, it's super-important to pick a friend who has the same ambitions as you. If you go with someone who doesn't care about working out, it's likely that he/she is gonna have a bad influence on you. Both of you might decide to give up quickly. Instead, you need someone who's gonna push you forward and be supportive. In order to become a Rocky, you need your own Mickey!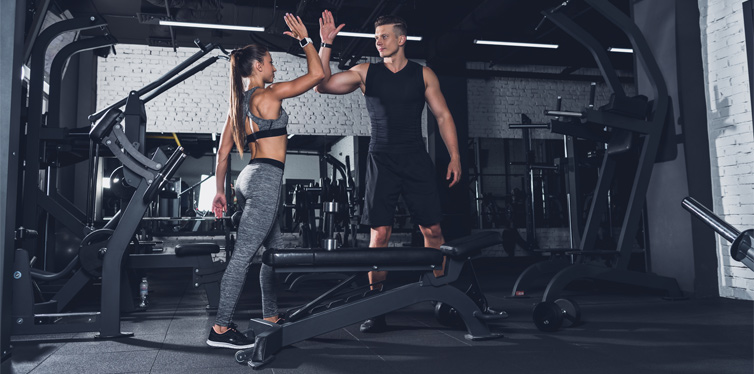 2. Choose the Right Gym
You need to hack your brain to fall in love with exercising. And the kind of gym you choose can have a decisive influence on this. So, do your research. Look for a gym that's clean; otherwise, you won't feel good spending more than a couple minutes there. And bad odors can make you feel sick, especially when you're lifting heavy weights, something that requires a lot of fresh air.
You also need to check whether the gym has all the machines and workstations you need. Some gyms are focused on people who're looking to lose weight, so bicycles and treadmills make up the most of the gym equipment. And the gyms focused on bodybuilders usually don't have a large collection of fat-burning workstations.
On top of that, you may wish to snoop a bit more around to find out what kind of people are coming to the gym. When we say people, we mean women. If the gym is full of fitness models, you're guaranteed to like it. And it's gonna have a good impact on your development – you're gonna push harder to show the girls how much of an alpha-male you are.
3. Stay Away From Big Weights (For the Moment)
You can't compete with gym rats, at least not right away. So, don't try to match the weight they lift. Not only can you embarrass yourself, but you can also sustain a serious injury. And in the best-case scenario, you will end up with such muscle soreness that you won't be able to lift anything for several days after the hard workout.
Our advice is to go slowly. Rather than lifting big weights for only a couple of times in a set, we advise you to go with less weight but more reps. This way, the risk of injuries is much lower and the benefits are practically the same. Your muscles are gonna get bigger and firmer, there's no doubt about that.
And as you're getting stronger and stronger, you should increase the weight you're pushing. But, you need to know that this process is slow. You just can't rush it. It takes months to improve the maximum weight you can bench-press even by as little as 20 pounds.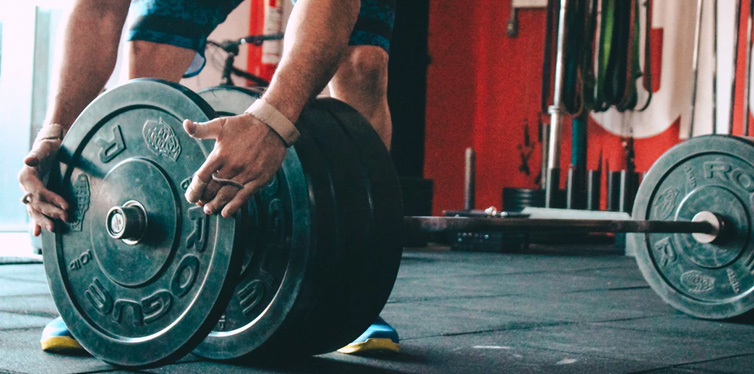 4. Warm Up Properly
The main concern each newbie has is getting injured. And that concern is justified. After all, you've never performed these exercises in your life, so something can go wrong easily. A good way to reduce the risk of injuries is to warm up before every workout. This way, you will make sure that the blood is running through your muscles and joints, supplying them with all the nutrients they need.
Calisthenics can be a good choice if you want to warm up and strengthen your joints. However, what we really recommend as a warm-up activity is running on the treadmill or riding a stationary bicycle. Another good advice we can give you regarding injuries is to ask the guy working in the gym to show you how the exercises are performed. Don't be ashamed to ask them for an advice – it's better to be safe than sorry.
5. Don't be a Wise-Ass
Let's talk about the gym etiquette. You are free to make friends in the gym, but please don't annoy people. Don't be a smart-ass who's giving fitness advice to everyone even when not asked for your opinion. And you definitely shouldn't give advice to the guys who look better than you, as you can seriously offend them. They've achieved their appearance without using any of your tips, so they probably won't be willing to change their workouts just because you told them.
This advice is evergreen – once you get a lot of gym experience, there's no need to share it with people who don't want to hear it. Even if you spot new people in the gym, you should really refrain yourself from giving them unsolicited tips. Of course, forget about this advice if you notice that someone is about to injure themselves.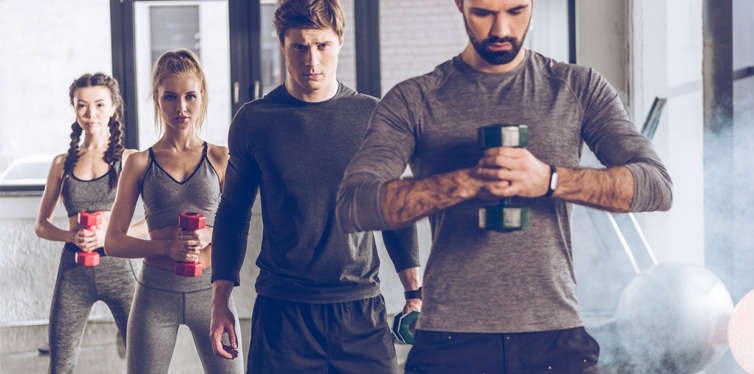 6. Take Care of Your Hygiene
Let's keep on talking about the nice behavior in the gym. Keeping a good hygiene is what everyone expects from everyone in the gym. But, gym hygiene is not just about wearing clean clothes and using an antiperspirant. It's also about cleaning all the traces of your sweat.
Do you like getting other people's stinky sweat smeared over you? No one does, so don't be the guy that leaves a machine without wiping it with a towel.
7. Don't Occupy a Machine for Too Long
It's not your gym; other members have the same rights as you to use the machines and workstations. A typical weight exercise of 10-12 reps takes less about 20 seconds to complete, but some people spend much, much more time resting between the sets. When you're done with a set, just step away and let the others use it.
There really is no need to perform one exercise for more than a couple of minutes in total. A general rule of thumb is that each exercise should have four sets, each with 8 to 12 repetitions. So, counting the pause between the sets, the total time you need more a single exercise shouldn't be over 5 minutes.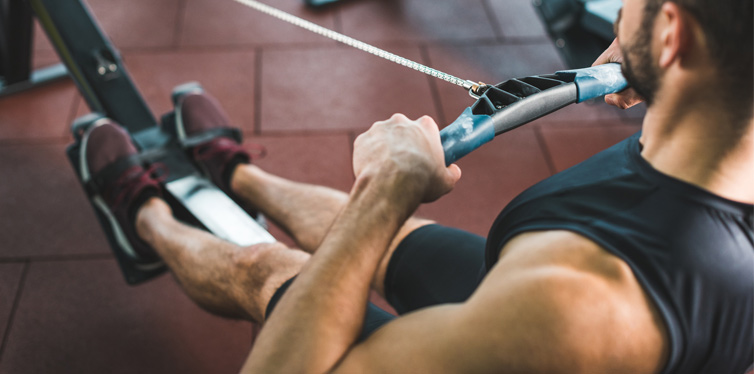 8. Return the Dumbbells Where they Belong
Actually, this rule goes for every item in the gym – you need to bring it back to the state in which you've found it. This isn't just to show off your great manners, but also because of your safety and the safety of other gym members.
The thing is that most gym walls are covered in mirrors so that people can watch themselves while working out. They also use the mirrors to admire their bodies and make selfies while resting between the sets. Their eyes aren't gonna be focused on the floor, so they can easily stumble on the dumbbells that you left behind. Our advice is to return the dumbbells to the dumbbell rack and save everyone's time.
9. Come to the Gym at the Right Time
Be aware of your gym's opening and closing hours. Your gym has certain working hours and you're expected to respect them. The guys working in the gym might tolerate if you stay for a few minutes longer, but remember, they too have their own personal lives.
And if they get fed up with you, they might kick you out. Not only can this be unpleasant, but it also means that you won't finish your workout session. So, our advice is to be there on time and finish working out before the gym closes.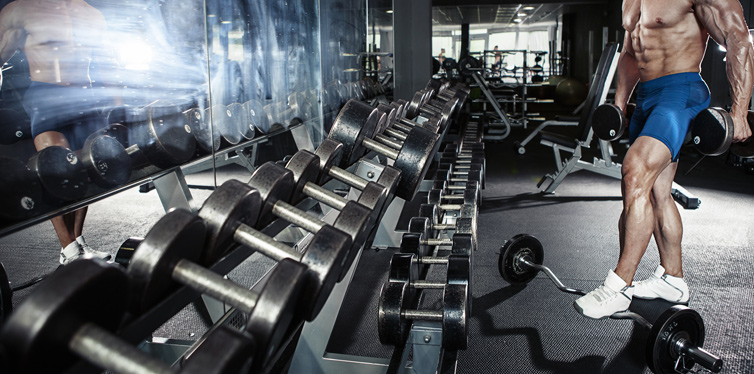 10. Be Cautious When it Comes to Supplements
Some gyms sell their own supplements, so they won't be too pleased if they see you mixing your own shakes. And even if they allow that, they certainly won't be too happy if you spill the shake all over the place. So, be careful what you do.
Furthermore, be very careful with steroid talk. It's estimated that over a million Americans have tried anabolic steroids at least once, but this doesn't mean that everyone is eager to talk about them. Especially not with strangers. And, considering that they're illegal, you can get into serious trouble if you try to purchase them.
Of course, there's also the health aspect – they can ruin you completely. So, better stick to legal supplements – whey protein powders, BCAA, creatine, N.O. reactors, and so on.